Image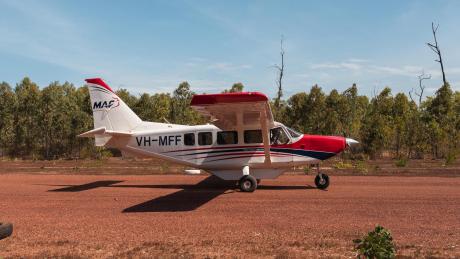 Photo: Divyan Ahimaz
Gapuwiyak is a remote indigenous community of approximately 900 people. By air it is just 40 minutes away from Nhulunbuy, the nearest town. By road it is more than 200 kilometres on mostly dirt tracks that can only be used at certain times of the year. One family share how MAF has made a difference for them there.
We wanted to share a few personal stories of how much MAF has helped us living in the community of Gapuwiyak. 
We praise God we can live in Gapuwiyak and join in on God's great work here. There are many positive aspects to living in this culture and sharing life with the Yolngu people here. But we strongly feel that we couldn't live here without the partnership of MAF and the support you give to us.  
There are some challenges of living in a remote indigenous community of 900 people. One of these being loneliness. It can be isolating here. We miss having other Christians nearby who we can talk to and encourage each other to keep persevering in our faith and ministry. So, we have really benefited when our team leaders have been able to fly here to visit us and provide pastoral care. You can't put a price tag on being able to sit face to face and share your heart and receive counsel and encouragement.
We have also greatly benefited from being able to fly over to Elcho Island and Milingimbi to visit our Pioneer team mates. These visits are so encouraging. Not only do we get to see first hand where our team mates live and serve, but we get the opportunity to see other communities and meet other Yolngu people. We can fellowship with our teammates as well as with the Yolngu people, encouraging and supporting each other. It also provides an opportunity for our children to spend time and play with other children, from our Pioneers team, and from the local community.
MAF has also helped us practically by transporting things to us here in Gapuwiyak. Recently, we needed new tyres for our car, but the recent wet season had blocked the road for us to drive into Nhulunbuy to buy them ourselves. MAF was able to fly in the much needed new tyres which enabled us to drive our car safely to Darwin. 
But it's not just tyres, we often need MAF's air support to transport essential commodities like food and groceries, mattresses, medicine, and tools which are not available for us to purchase in Gapuwiyak.
We wanted to take this opportunity to thank MAF for your continual support of us and our team. We couldn't live here and do ministry well if it wasn't for MAF. We thank God for MAF!
Many thanks,
The Jamir Family