Image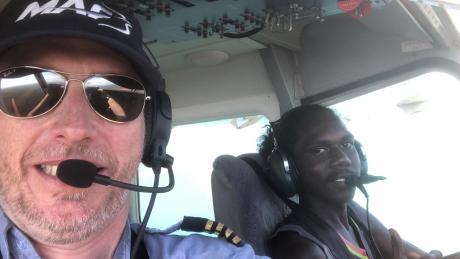 Photo: Joe Knighton
Seventeen year old Yalanba is keen to pursue an aviation career. MAF provided the opportunity for him to take to the skies in his first flying lesson. 
For many indigenous school students living in Arnhem Land, they are more familiar with a MAF plane, than with a school bus.
The Yolgnu people in this remote area frequently use small aircraft to visit family and friends, and transport school teachers and medical professionals. Most communities are only accessible by four wheel drive vehicles in the dry season, so when immediate travel is needed small aircraft are used.
In Arnhem Land, MAF pilots fly many secondary school students every week. One senior secondary boarding school in Garrthalala flies in students on Tuesday and then flies them back home again on Friday. So students are very familiar with flying and get to know the MAF pilots they see often. The relationship was encouraged further in 2020, when the school invited MAF to host a stall at their career expo, allowing students to learn about careers in aviation in a hands on manner. 
Image
Photo: Melissa Barclay
Trial Introductory Flight
Yalanba Munungurr, a seventeen year old Year 12 student, lives in the small community of Gurrumuru. Both he and his older brother are very interested in aviation as a possible career and have flown many times with MAF over recent years. When the opportunity arose, MAF Pilot Noel Carpenter arranged for Yalanba to have a Trial Introductory Flight.
For a Trial Introductory Flight a Flight Instructor will control the plane from the right hand side of the aircraft. After take off, and once the aircraft has reached the desired height, the instructor allows the student, seated in the left hand seat, to fly the aircraft for a period of time. The Flight Instructor then takes the controls again to land the plane.
This introductory flight gives the student the experience of flying a plane and is often used as an assessment tool for flight instructors to gauge the ability and confidence of the prospective flight student. 
Encouraging indigenous people
On 14th September, Senior Flight Instructor Joe Knighton, from MAF's Flight Training Centre in Mareeba, took off from Garrthalala with Yalanba in the pilot seat. During the thirty minute flight, Yalanba flew the aircraft around the bay near the community in a very relaxed and confident way.
Joe reflected that this is one of the reasons why the MAF Flight Training Centre exists: to promote and encourage the indigenous people of the places where MAF serves to become safe and skilled professionals in the aviation industry.
Perhaps in the future Yalanba, his brother, or some of his school friends, might choose to pursue a career in aviation and help to provide essential flights for the people of his own community.